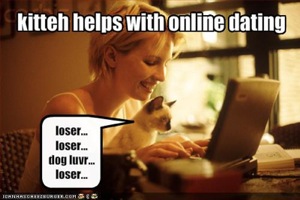 OK, I admit it. I tried a dating website.
That's the thing. When you're a single mom working full-time and taking care of little ones at night, there aren't a ton of options. Oh sure, I loitered in front of the produce section hoping some nice fella would comment on my Granny Smiths, but it just never happened. I probably lost some of my appeal because of my accessories – that would my kids. Don't get me wrong, they are my life, but they do tend to dampen my sex appeal when they're running around like maniacs in the grocery store.
So yeah, I hit the "Sign Up Now and Meet the Love of your Life!" button. After the kids were in bed, I would sneak down to the office and scroll through the pictures and the descriptions and the "I love travel and adventure" and the "I'm looking for a woman who looks just as good in a ponytail as she does in an evening gown." An evening gown? The closest I can get to that is my flannel pajamas.
There were emails with some of the guys. Most of them were nice enough. Many of them weren't too interested in a mom with kids. Occasionally, there'd be a guy who seemed interesting enough to actually meet, but that became tough because I have my kids more than I don't, so arranging a date sounded something like "I'm available three Tuesdays from now, from 6 to 9 p.m." Kinda took the spontaneity out of the experience.
But I did go on a couple of dates, and that's when I learned the rules had changed. Did you guys know that there is a rule about who calls who after a date, or that there has to be three dates before this happens, or six dates before that happens, and that you can't see where a person lives until some moment I never quite understood. Sheesh. I needed a handbook.
I quit using dating websites the day I realized I wouldn't exactly be proud to say, "This is my husband. We met online." It just lacks the romantic flavor I hope for. I want to be able to tell people some great story about how my husband accidentally ran over me in the parking lot, or stopped the thief who stole my purse. So I canceled my subscription and went back to the produce section. To buy some apples.